Whether you are redecorating, moving into a new home or replacing your old favourites with a new look, we offer a fantastic selection of chair covers, canopies and spare parts for your outdoor furniture. Devon Parts manufacture the highest quality fabrics and parts to suit all tastes and lifestyles. We deliver products worldwide.
Outdoor furniture is made from tough materials, but the covering on it may wear out faster than the chair itself. If you've found yourself in this situation, then come to Devon Parts for our replacement chair covers. These covers easily fit on your existing chair to bring back the cover's vibrant colours and durability. They come in a range of colours and sizes, so be sure to ask us about the colour you want.
Our products include covers for sunlounges, bar stools, and everyday chairs (eg Devon, Blake, Boston, Barker, Barnes, Summer and Pool chair designs).
For More Than Chairs
Replacement umbrella canopies, hook and loop straps for the underside of the chairs, footpads and screws are just some of the parts we supply. Be sure to look through our products to see what colours, styles, and sizes of canopies and covers we have available. Or, for more information about replacement chair covers, contact Devon Parts through our contact form, email us at devonparts@hotmail.com or call us on +61 4 18882155.
Fabric chair covers, umbrella canopies and sun lounger pads are just some of the products we manufacture. Devon Parts use the best acrylic fabric for outdoor applications available on the market. We have been using this fabric for 40 years. It will stand up to the harsh elements of the outdoors, in wind, rain and shine.
Spare parts include, nuts, bolts, barrel nuts, cap screws, hook and loop straps for fastening the seat cover into place, footpads, umbrella parts and much more.
With extensive knowledge of outdoor furniture our friendly staff can offer expert advice.
After two decades in the industry we offer fast, efficient and reliable service to your door.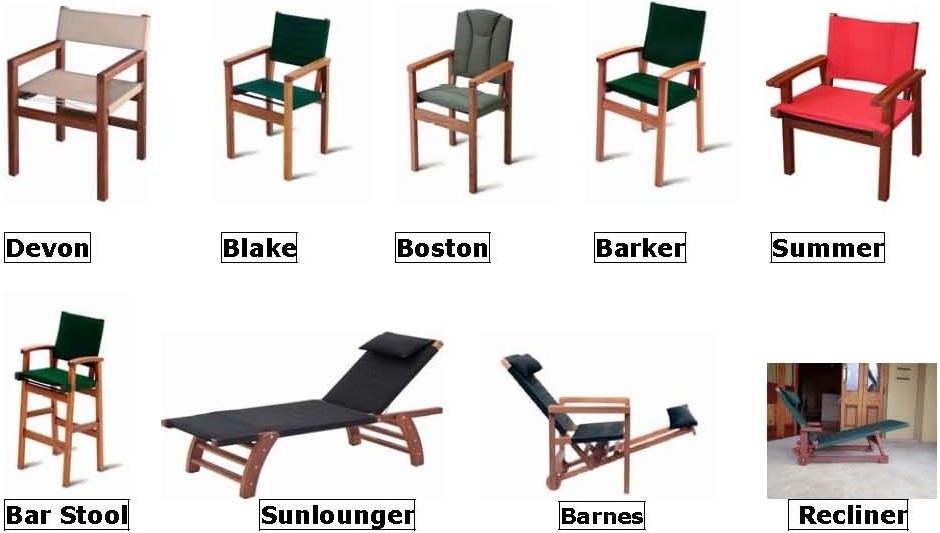 We invite you to visit us online to view the exclusive range of products for your Devon and outdoor furniture. We have a wide selection including:
Chair Covers/ slings and inserts for Devon, Blake, Boston, Barker, Summer Chairs & Bar Stools. Suncoast Chairs, Jensen Chairs and more.
Umbrella canopies and spare parts.
Sunlounger, Barnes Chair - covers and spare parts.
Nuts, bolts, foot pads, hook and loop straps and much more.